Humans are instinctively creative, as is evident by the marks made by early man. Often this impulse has been thwarted by negative or misunderstood feedback from teachers, family or peers.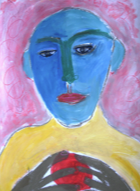 Our creative nature is delicate and can easily retreat further and further until we feel it is lost, and that it never existed in the first place. The activity of making a mark, either with a pencil, pen, paint brush or in clay, within a safe and "held" environment can be incredibly liberating and healing.

Art can help us rediscover the joy of expression and rebuild confidence in our innate skills.
On a deeper level it can help us voice, in a visual way, unexpressed feelings and emotions. By gently bringing back out into the light what has been buried, we can increase our self-awareness and allow ourselves to create and accept change in our lives.
Private sessions
generally last 1½ hours.

Group session
times are negotiable.

It is for everyone:
• People who feel like they "can't do art" but want to try
• People who feel stuck in their creative lives
• People who are stressed or work under pressure
• People who want to explore periods of transition and change
• Groups who want to play together creatively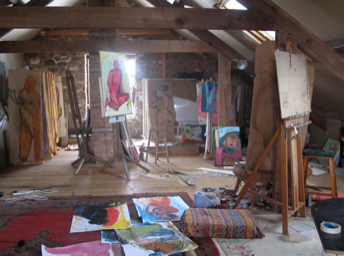 " I felt I was free to be just who I am without being judged."

" There isn't the pressure to make a perfect picture, just the pleasure of being creative - using new materials, exploring ideas."

"It's not about being an artist, it's about using symbols to explore feelings and emotions…making them visible to yourself often in a surprising and meaningful way."